Tesla Model S: Controls - Overview
Touch Controls on the bottom corner of the touchscreen to control features and customize Model S to suit your preferences. The Controls screen appears over the map. Touch an option on the Controls screen to display the various settings and options associated with the chosen option. Swipe to close.
NOTE: You can also access Controls by touching anywhere on the side of the touchscreen closest to the driver and swiping open.

When an information icon displays beside a specific setting, touch it to display a popup that provides helpful details about the associated setting.
NOTE: Many vehicle controls, settings, and preferences (such as climate, media, and navigation) can be adjusted hands-free using voice commands (see Voice Commands).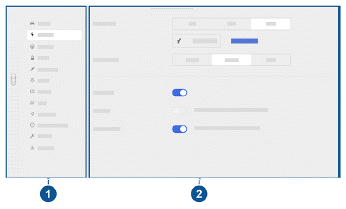 List of available settings. When you select an item from this list, its associated settings display on the right side of the screen.
Settings area. The options available for the chosen settings display here, and are described next.
If the touchscreen is unresponsive or demonstrates unusual behavior, you can restart it (see Restarting the Touchscreen).
Shortcuts and Frequently Used Settings
When you touch Controls, the touchscreen displays the following shortcuts and frequently used settings: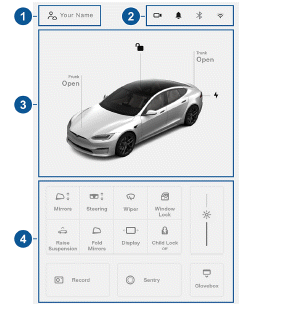 Create and access driver profiles.
Display alerts (see Troubleshooting Alerts) and access settings for HomeLink (see HomeLink Universal Transceiver), Bluetooth (see Pairing a Bluetooth Phone) and networks (see Connecting to Wi-Fi).
Quick access to locks, trunks and the charge port.
Commonly used controls.
READ NEXT:
Acceleration Adjust the amount of acceleration. Chill limits acceleration for a slightly smoother and gentler ride, whereas Sport provides the normal level of acceleration. NOTE: When Chill is sele
NOTE: Depending on market region, vehicle configuration, options purchased, and software version, your vehicle may not be equipped with all Autopilot features described below. Customize how some of
Control interior and exterior lights. See Lights. NOTE: You can also control the exterior headlights by touching the high beam headlights button on the left side of the steering yoke and then choosi
SEE MORE:
Removal Remove door trim pad (refer to procedure) Partially lower glass for access to glass clamp. Remove water proof tape for access to adjustment clamp. Loosen but do not remove clamp nut securing door glass to regulator (torque 7.5 Nm). This allows glass to move fore and
Removal Position the vehicle for access to the tailgate. Open the tailgate to working height. Carefully release the clips (x4) that secure the upper trim to the tailgate. Caution: Replace any broken clips.