Tesla Model S: Center Console
In addition to housing an RFID transmitter that reads key fobs and key cards (see Keys), the center console includes cup holders, two storage compartments, wireless phone chargers, and a rear touchscreen.
To open the main storage compartment, pull its cover upward. Open the front storage compartment by sliding its cover forward.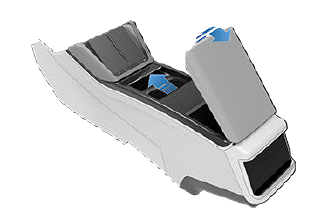 Second Row Console
Your Model S has a rear console integrated in the center of the second row. This console can serve as an arm rest for rear passengers.
To lower the console, press the button on the top back of the center seat. To raise the console, push it all the way upwards.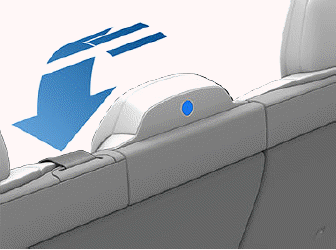 To access the storage tray and wireless phone charger (see Wireless Phone Chargers), raise the cover by pressing the latch on the underside of it and pulling it up.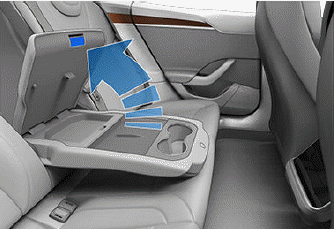 Glovebox
To open the glovebox, touch Controls > Glovebox. The glovebox automatically opens and the light turns on.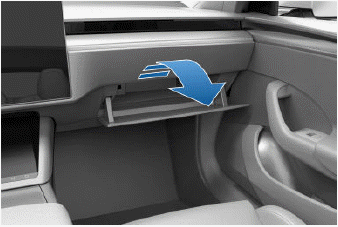 To close the glovebox, push it upward until it latches into the closed position.
For additional glovebox security, touch Controls > Safety > Glovebox PIN to set a 4-digit PIN (see Glovebox PIN).
NOTE: If you leave the glovebox open, its light eventually turns off.
NOTE: The glovebox locks whenever closed and you lock Model S using the mobile app, key card, you leave Model S carrying your phone key (if Walk-Away Door Lock is turned on), or if Valet mode is active (see Valet Mode). It does not lock when Model S is locked by touching the lock icon on the touchscreen.
WARNING: When driving, keep the glovebox closed to prevent injury to a passenger if a collision or sudden stop occurs.
READ NEXT:
Model S has five USB ports: Two USB ports are located in the front compartment of the center console. These can be used to charge USB devices and to play audio files from a phone or USB device
NOTE: For saving Sentry Mode and Dashcam footage, Tesla recommends using the USB port located in the glovebox. Doing so increases security and minimizes power consumption. One or more features on y
Wireless phone chargers are integrated into both the front and rear consoles, each providing up to 15W of power to charge Qi-enabled phones. Simply place your phone on the charger. Your device may
SEE MORE:
Removal Remove the RH lower instrument panel (refer to procedure) Remove the lower glove box panel by releasing the trim clips (x6). Open the glove box. Remove the 6 screws that secure the glove box.
Warning: If the vehicle has air suspension, activate "Jack" mode on the touchscreen before raising and supporting the vehicle. Special tool required for this procedure: Supplier Part Number