Tesla Model S: Lane Assist
Model S monitors the markers on the lane you are driving in as well as the surrounding areas for the presence of vehicles or other objects.
When an object is detected in your blind spot or near the side of Model S (such as a vehicle, guard rail, etc.), the instrument panel displays colored lines radiating from the image of your vehicle. The location of the lines correspond to the location of the detected object. The color of the lines (white, yellow, orange, or red) represent the object's proximity to Model S, with white being the farthest and red being the closest and requiring your immediate attention. These colored lines only display when driving between approximately 7 and 85 mph (12 and 140 km/h). When Autosteer is active, these colored lines also display if driving slower than 7 mph (12 km/h). However, the colored lines do not display if Model S is at a standstill (for example, in heavy traffic).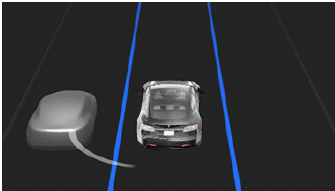 CAUTION: Ensure all cameras and sensors are clean. Dirty cameras and sensors, as well as environmental conditions such as rain and faded lane markings, can affect Autopilot performance.

WARNING: Lane Assist features are for guidance purposes only and is not intended to replace your own direct visual checks. Before changing lanes, always use side mirrors and perform the appropriate shoulder checks to visually determine if it is safe and appropriate to change lanes.

WARNING: Never depend on Lane Assist to inform you if you unintentionally drive outside of the driving lane, or to inform you that there is a vehicle beside you or in your blind spot. Several external factors can reduce the performance of Lane Assist (see Limitations and Inaccuracies). It is the driver's responsibility to stay alert and pay attention to the driving lane and other road users. Failure to do so can result in serious injury or death.
READ NEXT:
Lane Assist provides steering interventions if Model S drifts into (or close to) an adjacent lane in which an object, such as a vehicle, is detected. In these situations, Model S automatically stee
Emergency Lane Departure Avoidance automatically applies steering to avoid a potential collision in situations where: Model S is departing a lane and may collide with a vehicle traveling i
Lane Assist features cannot always detect lane markings and you may experience unnecessary or invalid warnings in these situations: Visibility is poor and lane markings are not clearly visible (
SEE MORE:
When charging at a Tesla supercharger, information about the charging session displays at the bottom of the charging screen. This includes the location, the time that charging started, and a cost estimate for the session. When you stop supercharging, the estimated cost of the session displays u
Warning: Only technicians who have been trained in High Voltage Awareness are permitted to perform this procedure. Proper personal protective equipment (PPE) and insulating HV gloves with a minimum rating of class 00 (500V) must be worn any time a high voltage cable is handled. Refer