Tesla Model S: Lifting and Jacking
Raising and supporting the vehicle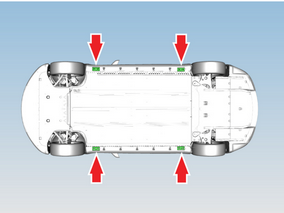 Jacking points on the Model S
Caution: Do not jack or support the vehicle on any other points than those shown. Failure to comply will result in damage to the body or chassis components.
Two post lift
Refer to procedure 10000205 for instructions.
Warning: Death, serious injury or damage to the vehicle can occur if the vehicle is improperly lifted on a two post lift.
Hydraulic jack
A hydraulic jack with a minimum 1500 kg (3300 lb) load capacity must be used.
Warning: For vehicles with air suspension, suspension 'Jack' mode must be activated before lifting the vehicle with a hydraulic jack (refer to procedure 10000105). Failure to do this might lead to suspension damage and could cause serious personal injury.
Warning: Do not start work on the underside of the vehicle until safety stands have been positioned under the body reinforced pads. Never get under a vehicle that is only supported by a jack.
Warning: Always chock the wheels when jacking.
READ NEXT:
Fluids Air conditioning Depending on its intended sales region, the air conditioning system is filled with R134a or 1234yf refrigerant. Refer to the label on the RH frunk trim. If oil nee
The HV battery alignment rods assist in aligning the HV battery during installation. Note: This tool is intended to be used by 2 technicians. To use the alignment rods: Position the tabl
SEE MORE:
Your Model S includes the following components that actively monitor the surrounding area: A camera is mounted above the rear license plate. Ultrasonic sensors are located in the front and rear bumpers. A camera is mounted in each door pillar. Three cameras are mounted to the windshield above
Removal Remove the parcel shelf, if equipped. If the LH C-Pillar rear trim panel has a liftgate switch, reach behind the C-pillar rear trim panel and push the switch out from the back. If not, skip to step 4. Di