Tesla Model S: Using a Car Cover
To preserve the cosmetic appearance of the body when Model S is not being used, use a genuine Tesla car cover. Car covers can be purchased from Tesla. See Parts and Accessories.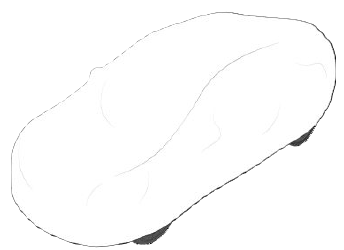 CAUTION: Use only a Tesla-approved car cover when Model S is plugged in. Using a non-Tesla car cover can prevent the Battery from being adequately cooled during charging.
Floor Mats
To extend the life of your carpet and make them easier to clean, use genuine Tesla floor mats (see Parts and Accessories). Maintain floor mats by regularly cleaning them and checking that they are properly attached. Replace floor mats if they become excessively worn.
WARNING: To avoid potential interference with a foot pedal, ensure that the driver's floor mat is securely fastened, and never place an additional floor mat on top of it. Floor mats should always rest on top of the vehicle carpeting surface and not on another floor mat or other covering.
READ NEXT:
Periodically clean the edge of the wiper blades and check the rubber for cracks, splits, and roughness. If damaged, replace the blade immediately to prevent damage to the glass and improve visibili
For optimum performance, replace the wiper blades at least once a year. Replacement blades must meet the following criteria: The blade on the driver's side must be 26 inches (650 mm) long and 20
SEE MORE:
NOTE: Depending on market region, vehicle configuration, options purchased, and software version, your vehicle may not be equipped with Smart Summon, or the feature may not operate exactly as described. Smart Summon is designed to allow you to move Model S to your location (using your phone's GP
Remove extension cords / Have wiring inspected Charging has been interrupted because the onboard charger in your vehicle has detected an unusually large voltage drop. Likely causes of this issue include: Problems with the building wiring and/or the wall outlet. An extension cord or other wirin