Tesla Model S: Pull onto the Flatbed Truck From Front (Without Tow Eye)
CAUTION: To avoid damage, only pull the vehicle onto a flatbed truck using a properly-installed tow eye. Using the chassis, frame, or suspension components to pull the vehicle can result in damage.

WARNING: If the vehicle is pulled onto the flatbed truck using this method, all suspension fasteners should be checked for proper torque and all components should be visually inspected for damage prior to driving the vehicle again. If a fastener is loose, or if any damage is found, the affected component(s) should be replaced.
It is strongly recommended that you connect the winch to your vehicle's tow eye, as described previously. However, if a situation arises in which the tow eye is not available (lost, misplaced, etc.), the following instructions describe how to attach tow straps.
1. Attach the tow straps to each of the lower suspension arms underneath the front of the vehicle.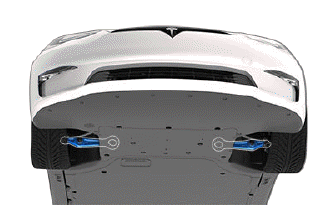 2. To protect the underbody from damage, place a protective barrier (such as a piece of wood) between the tow strap and underbody.
3. Activate Transport Mode.
4. Pull Model S slowly onto the flatbed truck.
Secure the Tires
The vehicle's tires must be secured onto the truck using the eight-point tie-down method.
Ensure any metal parts on the tie-down straps do not contact painted surfaces or the face of the wheels.
Do not place tie-down straps over body panels or through the wheels.
CAUTION: Attaching the tie-down straps to the chassis, suspension or other parts of the vehicle's body may cause damage.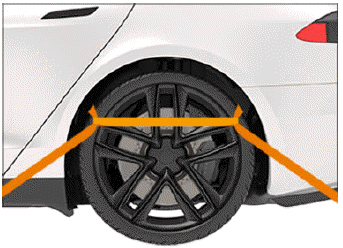 READ NEXT:
If Model S has no low voltage power, perform the following steps to open the hood or jump start the auxiliary low voltage battery. Jump Starting the Low Voltage Battery CAUTION: Model S cannot be us
Document Applicability For the latest and greatest information that is customized to your vehicle, view the Owner's Manual on your vehicle's touchscreen by touching Controls > Service > Owner
SEE MORE:
Warning: To avoid personal injury, wear cut-resistant gloves when performing this operation. Note: Use Dow Betaseal Express or an equivalent fast-curing glass adhesive to perform this procedure. Special tool recommended for this procedure: Supplier
Warning: If the 12V power supply is disconnected, do not attempt to open any doors with door glass in closed position. Failure to follow this instruction could result in door glass shatter. Note: Before disconnecting the 12V power supply, ensure that the driver's door window